Von einer steilen Felswand springt ein graziler Jüngling ins Meer. Steinerne Schlangen kriechen die Klippen hoch; in Tretbooten, die exotischen Vögeln nachempfunden sind, haben Männer und Frauen ausgelassenen Sex unter der gleißenden Mittagssonne. Auf dem Gras endlos weiter Wiesen und in den Polstergemächern opulenter Opiumhöhlen geben sich nackte Menschen hetero- und homoerotischen Abenteuern hin, verspeisen bei einem Festmahl reichlich gefüllte Haie oder sehen sich traumhafte Feuerwerke an. Eine Welt, zu schön, um wahr zu sein!
All das und noch viel mehr, was sich auf einer ehemals von Fischerdörfern gesäumten Insel abspielt, entspringt der Fantasie des Schriftstellers Hitomi Hirosuke. Dem Autor mäßig erfolgreicher, im Genre der Phantastik anzusiedelnder Literatur ist im wirklichen Leben kein großer Erfolg vergönnt. Eines Tages allerdings klärt ihn sein Literaturagent über den Tod seines ehemaligen Studienfreundes Genzaburo Komoda auf. Beide glichen sich einst wie ein Ei dem anderen. Während Hitomi sich der Schriftstellerei widmete, übernahm Komoda jedoch das Industrieimperium seiner steinreichen Familie. Hitomi sieht seine Chance gekommen: Er fingiert seinen Selbstmord, lässt den erst wenige Tage alten Leichnam des alten Kommilitonen verschwinden und macht sich auf in Komodas Heimatdorf. Dort lässt er sich als medizinisches Wunder feiern und erklärt, er habe eigenhändig sein Grab verlassen. Tatsächlich nimmt er daraufhin den Platz des Verstorbenen ein, und verfügt nun über ein nahezu unendliches Vermögen. Der Verwirklichung seines Traums von einem Inselparadies jenseits von Raum, Zeit und Alltag scheint nun nichts mehr im Wege zu stehen…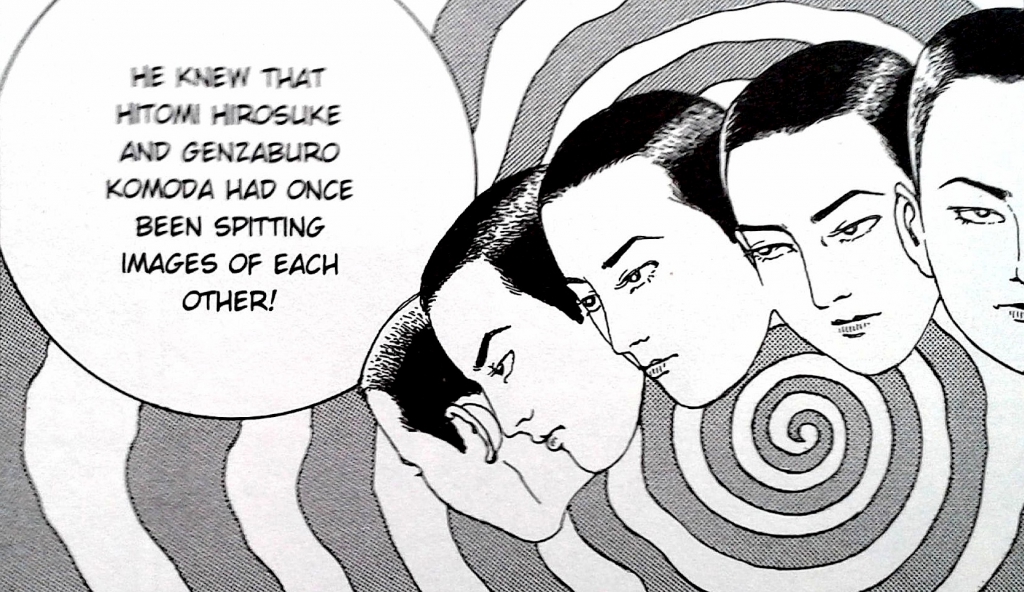 Angesichts einer solchen Prämisse fühlt man sich unweigerlich an die Pulp-Literatur vergangener Jahrzehnte erinnert. Und das durchaus zurecht: Mit The Strange Tale of Panorama island hat der 1956 geborene Suehiro Maruo einen Roman des von ihm verehrten Krimi-, und Mysteryschriftstellers Edogawa Ranpo (1894-1965) adaptiert. Tatsächlich haben sich mit Ranpo und Maruo zwei Meister des Düsteren, Abgründigen und Abseitigen gefunden, die sich perfekt ergänzen. Hätten sie sich noch zu Lebzeiten Edogawas kennen gelernt – man kann davon ausgehen, dass der Schriftsteller den Comiczeichner und -Autor selbst mit der Adaption seiner Werke beauftragt hätte.
Da ist zunächst die optische Brillanz, die sofort ins Auge springt: Die Insel, Hitomis irdisches Paradies, wirkt tatsächlich wie der ultimative Fluchtort für all jene, denen das hier und jetzt nur noch Verdruss bereitet. Man kann sich nicht satt sehen an den immer neuen Ideen, an den eklektizistisch zusammengewürfelten Bauwerken, Statuen und Kostümen verschiedener Kunstrichtungen und Epochen, am Reigen all der Bewohner des unwirklichen Paradieses, die von Hitomi als Lebende Kulisse angeheuert wurden und deren einzige Aufgabe lautet, allen nur erdenklichen Ausschweifungen zu frönen. All das findet seinen Ausdruck auf den vielen Splashpages (ganz- oder doppelseitigen Illustrationen) die wie Gemälde wirken. In ihnen möchte man sich sich stundenlang verlieren.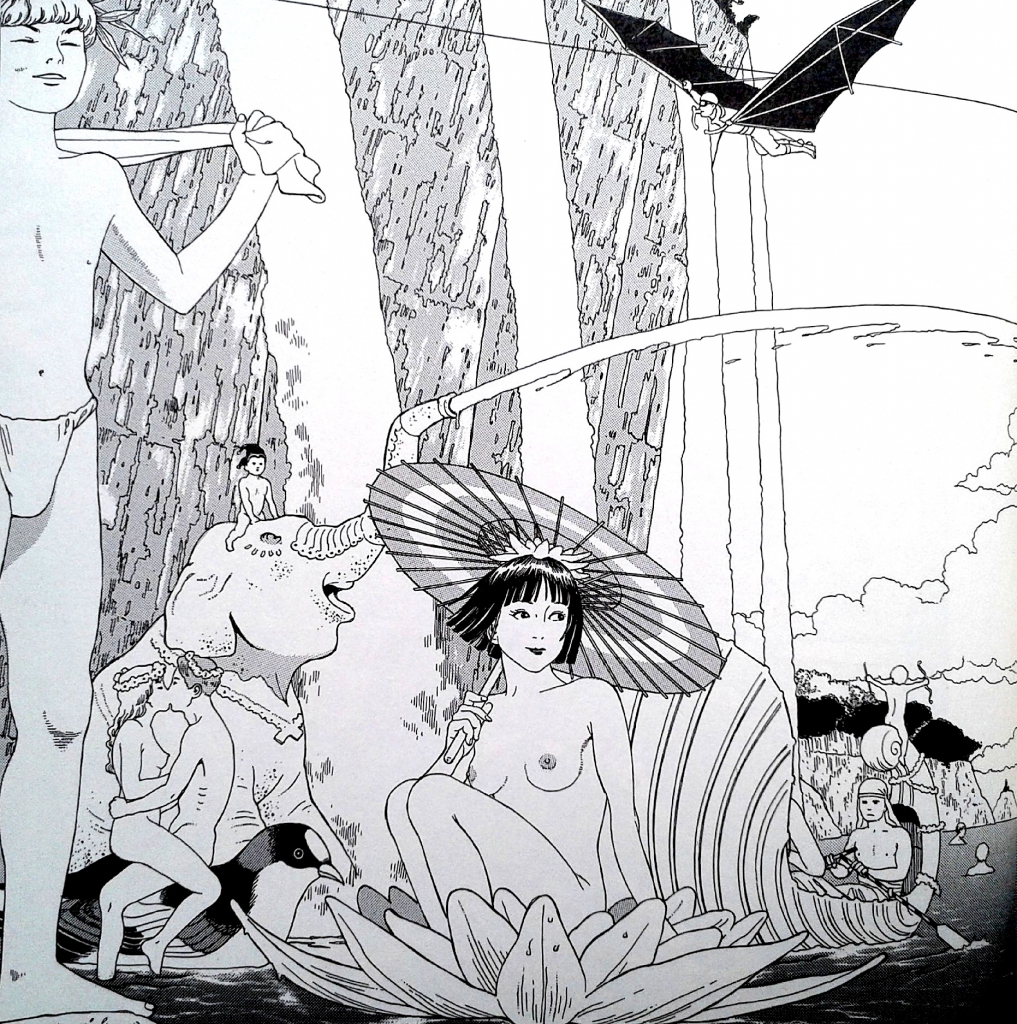 Maruo, ein Liebhaber der Architektur sowie der Massen- beziehungsweise Populärkultur der 20er und 30er Jahre, kann sich hier ungehemmt austoben. Gleichwohl zählt Panorama Island zu jenen Werken, in denen er seinen üblichen Hang zu ästhetisierten Splatterorgien und blutigen Schockeffekten im Zaun hält. Das macht das Werk auch für diejenigen ansprechend, denen das bisherige Schaffen Maruos einfach zu heftig war. Die düstere und sinistre Ästhetik, die seine früheren Werke auszeichnet, wie zum Beispiel Der lachende Vampir (Maruos bislang einziger ins Deutsche übersetzte Manga) oder New National Kid, entfaltet sich jedoch auch hier.
Der durchästhetisiert-artifizielle Charakter seiner Welten sowie die zahlreichen Anklänge an Stilelemente des Shojo-Manga, derer sich Maruo gerne bedient (und die meist im krassen Kontrast zur dargestellten Handlung stehen) kommen auch hier zum Tragen: Blumenblätter, Efeuranken und schwarze Salamander erscheinen mitunter nicht mehr als Dekoration der opulenten Papierwände in Komodas Residenz. Sie verzieren die Hintergründe einzelner Panels und entwickeln ein symbolistisches Eigenleben in den Gedanken und Tagträumen des Helden, der von seiner Vision besessen ist.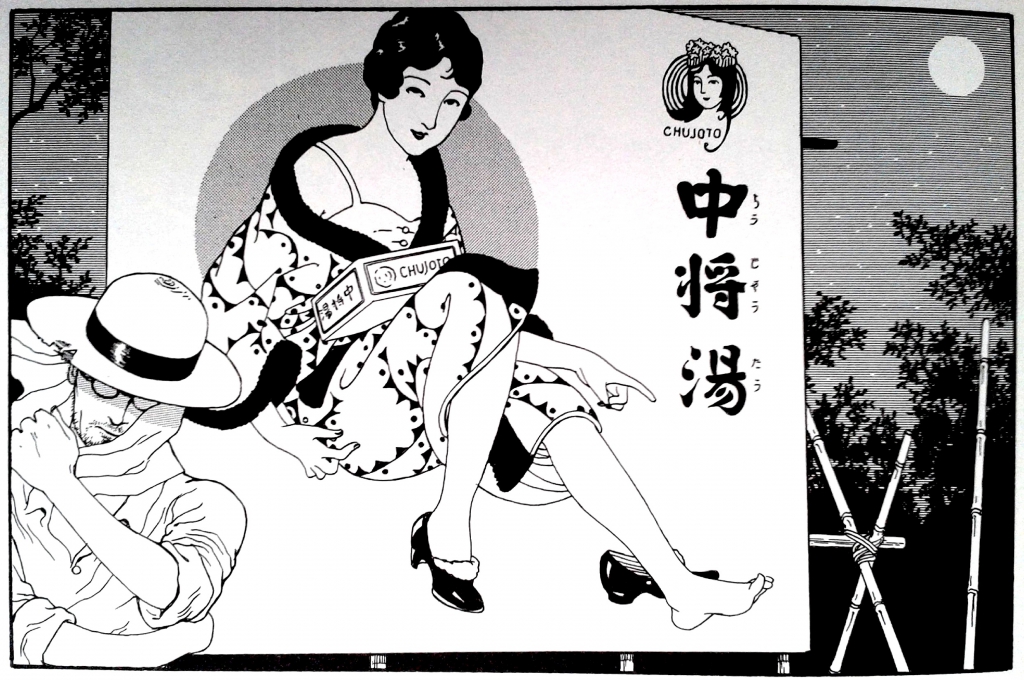 In der Darstellung der Gedankenwelt des Schriftstellers Hitomi und seines Abgleitens in den Wahnsinn liegt eine weitere große Stärke des Mangas. Während dem Spektakel und dem gestalterische Faszinosum mehr Raum eingeräumt wird als den Dialogen und der Charakterentwicklung, schafft es Maruo doch mit Bravour, das Innenleben seiner Figuren in wenigen Bildern zum Ausdruck zu bringen: So etwa in einem Blick von Hitomis Frau Chiyoko, die sich angesichts der wahnhaften Betriebsamkeit, mit der ihr neuer alter Ehemann das Vermögen der Familie für den Bau seiner Insel verschleudert, unsicher abwendet. Oder die Tagträume Hitomis, der seine Enttarnung vor den in der Residenz versammelten Gästen eines Willkommensfests fürchtet.
Tatsächlich ist es die schöne und geheimnisvolle Chiyoko, die Hitomi schnell als die größte Gefahr für sein Vorhaben betrachtet. Der Wahnsinn frisst ihn buchstäblich auf; anstatt sich in die Harmonie des Lebens als wohlhabender Großbürger zu flüchten (ein Weg, der ihm anfangs durchaus offen zu stehen scheint), ordnet er alles nur noch einem einzigen Ziel unter. Während Chiyoko am Anfang noch unsicher, aber zugewandt wirkt, lässt sich Hitomi keine Sekunde lang von seinem Vorhaben abbringen. Die Schaffenskraft des Menschen, glaubt er, ist unendlich. Und wer alles in Bewegung setzt, kann seine eigene Welt erschaffen und somit auch unsterblich werden. Wie das endet, soll hier nicht verraten werden. Bemerkt sei nur, dass eine der bekanntesten Figuren von Edogawa Ranpo plötzlich wie Kai aus der Kiste auf Hitomis Insel erscheint.

Wollte man diesem Manga vollständig gerecht werden, müsste man wahrscheinlich ein kleines Buch schreiben. Bevor der Autor dazu in der Lage ist, wird an dieser Stelle in nicht allzu ferner Zukunft ein Artikel erscheinen, in dem näher auf Maruos Ästetik, seine unterschiedlichen Einflüsse und seine politischen Ambivalenten eingegangen wird. [Stammleser können mittels Erfahrungswert hoch zwei ausrechnen, wann genau dieser zweite Teil real existieren wird.]
Zu Panorama Island bis dahin nur so viel: Dieser Manga ist in seiner Schönheit und Opulenz schlichtweg atemberaubend. Auch ohne Kenntnisse des Werks von Maruo, Edogawa Ranpo oder der zahllosen Versatzstücke und Referenzen lohnt sich die Lektüre für jeden, der sich der einmal mehr von den Möglichkeiten des Mediums Comic (und der Gattung Manga) überzeugen möchte.
Suehiro Maruo: Strange Tale of Panorama Island (US-amerikanische Fassung). Last Gasp, San Francisco 2013, 24,95 Dollar.