Mit DRAGONBALL Z: RESURRECTION 'F' schaffte es im September der zweite von Serienschöpfer Akira Toriyama höchstpersönlich entworfene DBZ-Film in die deutschen Kinos. Gerüchten zufolge führt unser Nostalgie-Experte Brian D. Ackermann  gerne 10-Minutenversionen der 291-teiligen TV-Serie auf Geburtstagen und Hochzeiten in verteilten Rollen auf. Er war also unser Mann für die Sondervorstellung in Berlin in Anwesenheit des aus Japan angeflogenen Produzenten Norihiro Hayashida. Im Gespräch mit Herrn Hayashida brachte Brian in Erfahrung, warum Freezer schon wieder als Oberschurke ausgegraben wurde und fand heraus was die Herzen amerikanischer Zuschauer höher schlagen lässt.
DRAGONBALL Z: RESURRECTION 'F' made it to German cinemas in September. It was the second DBZ movie the master himself –  Akira Toriyama – was involved in. According to rumor our nostalgia expert Brian D. Ackermann likes to stage 10 minute versions of the most beloved DBZ stories at weddings and birthday parties. Needless to say he was our man to attend a special screening in Berlin with Japanese producer Norihiro Hayashida present. Talking to Mr. Hayashida he discovered why Freeza was dug up as the super villain once again and what the American fanbase is truly into.
ENGLISH VERSION below!
Zum Einstieg eine einfache Frage: Was gefällt Ihnen persönlich an Dragon Ball Z: Resurrection 'F' am besten und was finden Sie am wenigsten gelungen?
Hayashida: In einem Kinofilm muss man Kompromisse machen, weil einem nur begrenzte Zeit zur Verfügung steht. Man kann deshalb natürlich nicht alle Charaktere unterbringen. Trotzdem hat man diesmal versucht, so viele DBZ-Fans wie möglich anzusprechen. Jeder hat einen anderen Lieblingscharakter, meistens Vegeta, Piccolo oder Krillin. Man hat dementsprechend versucht, jedem Schlüsselcharakter eine Kampfszene zu widmen. Ich habe das Gefühl, dass das auch sehr gut gelungen ist. Was die Kampfszenen angeht, habe ich bis jetzt positive Rückmeldungen bekommen. Was mir weniger gefällt ist, dass der Kinofilm erst jetzt in Deutschland anläuft – also die lange Zeitspanne zwischen der Premiere in Japan und der Veröffentlichung hier.
Das waren eineinhalb Jahre, oder?
In Japan war die Premiere im April letzten Jahres – also vor eineinhalb Jahren, genau. Das ist ein noch wichtiger Punkt, der verbessert werden sollte. Da muss unser Zeitplan besser durchdacht werden. Natürlich sind wir da auch stark auf unsere Partner angewiesen. Wenn es einen weiteren Film geben sollte, dann soll er so bald wie möglich auch außerhalb Japans veröffentlicht werden.
Die bereits erwähnten Kampfszenen sind in der Tat sehr cool. Die verschiedenen Umgebungen, wie der Wald oder das Meer, werden gut ausgenutzt. Und was schon im Q&A angesprochen wurde: Hinter den Kampfszenen stecken echte Martial Arts Moves. Auch das hat mir sehr gefallen. Im Vergleich zum Vorgängerfilm Battle of Gods gibt es dadurch allerdings viel weniger Handlung und Charaktermomente. Allein der Kampf mit Freezer und seinen Schergen dauert sehr lange. Warum so viele Kampfszenen?
Sehr gut beobachtet! Das ist aber auch so gewollt. Battle of Gods war nach 17 Jahren das Comeback der Dragonball-Filme. Da musste man natürlich ein bisschen weiter ausholen. Das war wie eine Art Ehemaligentreffen. Alle Hintergründe wurden erklärt, wodurch es automatisch mehr Handlung gab. Bei Resurrection 'F' geht es mehr darum, wieder zu den Ursprüngen  von Dragonball Z zurückzukommen. Und worum geht es bei Dragonball Z hauptsächlich? Um die Kampfszenen! Also hat man in diesem Film den Kampfszenen mehr Zeit gewidmet. Das ist der Grund.
Ich glaube mit Freezer als Bösewicht hat man auch eine Menge Zeit gespart. Er ist wohl von allen Bösewichten am besten etabliert.
In der Tat! Freezer ist für Son Goku so wie der Joker für Batman. Er ist der Gegner überhaupt. Das haben Sie sehr richtig erkannt. Man kommt in den Film viel schneller rein. Man hat versucht, es den alten Fans so schmackhaft wie möglich zu machen, indem man Freezer wiederauferstehen lässt.
Wie sind Sie zu Dragonball gekommen? Soweit ich weiß, haben Sie bei Dragonball Z Kai mitgearbeitet. Wie haben Sie angefangen?
Ich arbeite schon über fünf Jahren bei Toei Animation. Ursprünglich habe ich in der Oversea Sales-Abteilung gearbeitet. Damals hatte ich mit Dragonball noch nichts am Hut. Zu dem Zeitpunkt war es aber so, dass gerade die Rede von einer neuen Dragonball Z-Serie war. Das war Dragonball Z Kai. Ein Grund, warum man Kai produzieren wollte, war, dass Dragonball im Ausland sehr viele Fans hat. Zu diesem Zeitpunkt stand noch kein Produzent fest. Ich habe mich beworben und wurde glücklicherweise genommen. Das hat auch dazu geführt, dass ich später den Kinofilm produziert habe.
Sie sind offensichtlich ein großer Fan von Dragonball und Herrn Toriyama. Gab es einen besonderen Magic Moment bei Dragonball Z, der den Gedanken in Ihnen geweckt hat, unbedingt Produzent dafür zu werden? Der erste Supersayajin? Das Kame-Hame-Ha?
Ich bin einer von vielen Fans, denke ich, die die erste Verwandlung zum Supersayajin nennen. Außerdem kann ich mich noch sehr gut daran erinnern, wie Son Gohan seinen Vater zum Supersayajin hat werden sehen. In der Serie war schon viel die Rede davon, aber man wusste noch nicht genau, was das ist. Schließlich hat Freezer ihn dermaßen gereizt, dass Goku zum Supersayajin geworden ist. Das war einer der Momente, die mich sehr beeindruckt haben.
Wie war die Zusammenarbeit mit Akira Toriyama? Sie meinten gestern beim Q&A schon, dass er sehr freundlich und zurückhaltend sei. Wie genau lief das ab?
Als Produzent habe ich eine etwas komplizierte Beziehung zu Toriyama-Sensei. Er ist derjenige, der auf das Gesamtwerk achten muss. Was ich gemerkt habe, war, dass er mit dem kreativen Team bei Toei – also dem Regisseur und den Zeichnern – sehr respektvoll umgegangen ist. Als Drehbuchautor des Films und Schöpfer der Serie hat er natürlich auch etwas zu sagen. Trotzdem hat er eine gewisse Linie nie überschritten. Er fühlt sich für die Mangaserie zuständig und die Animation überlässt er sozusagen den Profis. Man merkt wirklich, dass er Respekt gegenüber dem Team hat. Dementsprechend entsteht aber auch Druck aufseiten des Teams, den Erwartungen, die er hat, nicht gerecht zu werden. Man will ihn nicht enttäuschen. So war Toriyama-Senseis Respekt auch ein unsichtbarer Druck. Aber auf der anderen Seite kenne ich es von anderen Werken, dass Autoren sich quer stellen und das Projekt bremsen, weil sie zu viele Wünsche haben. Bei Toriyama-Sensei hat man dagegen das Gefühl, dass er verständnisvoll ist und dem Anime-Team viel Freiraum lässt, damit es unter guter Beobachtung weiterarbeiten kann. Die Zusammenarbeit war also sehr kooperativ.
Im Q&A wurde angesprochen, dass die Idee, Freezer wiederzubeleben, von Herrn Toriyama kam, nachdem er einen Song der japanischen Metalband Maximum The Hormone über Freezer gehört hatte. Wie viele Ideen im Film kamen vom Filmteam und wie viele von Akira Toriyama?
Da muss ich ein bisschen ausholen: Bei Battle of Gods war es so, dass Toriyama-Sensei die Handlung entworfen hat und jemand anderes das Drehbuch schrieb. Bei Resurrection 'F' war es so, dass zum ersten Mal Toriyama-Sensei selbst ein Drehbuch für einen Kinofilm geschrieben hat. Gleichzeitig war Resurrection: 'F'  für den Regisseur das erste Dragonball-Werk. Für beide Seiten war es also das erste Mal. Oft ist es so, dass Regisseure bei ihrem ersten Film sehr aufgeregt sind und versuchen, so weit wie möglich ihren eigenen Stil einzubringen. Dadurch, dass das Drehbuch diesmal direkt von Toriyama-Sensei kam, war es letztlich eine sehr gute Balance.
Von Fans in Deutschland kam die Rückmeldung, dass Nebencharaktere wie Vegeta nicht genug Screentime abbekommen hätten. Sie meinten, in Japan wäre das kein Problem gewesen. Schaut man Dragonball Z in Japan anders?
Tendenziell lässt sich auf jeden Fall sagen, dass es im Ausland mehr Vegeta-Fans gibt als in Japan. Das Gefühl habe ich auch. Natürlich hat Vegeta auch in Japan seine Fans. Das ist aber kein Vergleich zu Amerika und Europa.
Eine technische Frage: im Film wurden 3D-Animationen verwendet, um eine freiere Kamerabewegung zu ermöglichen und damit dynamischere Kämpfe. Gleichzeitig haben die 3D-Bilder aber auch so herausgestochen, dass man meinte, mal einen Film, mal ein Playstation 3-Game anzusehen. Gibt es Ideen, wie man das in Zukunft verbessern kann?
Ja natürlich gibt es noch sehr viele verbesserungswürdige Sachen. Wir sind noch lange nicht am Ende, und auch noch lange nicht zufrieden mit dem Ergebnis. Da muss ich ehrlich sein: es gibt Sachen, die lassen sich mithilfe von 3D-Grafik viel schneller umsetzen. Man kann die Kamera frei bewegen und muss nicht alles einzeln zeichnen, um zu sehen, ob es gut wird.
Eine andere Sache, die mir aufgefallen ist: Der Film war wirklich überraschend lustig! Es gab kleine Gags wie etwa Piccolo, der eine Kinderwiege schaukelt oder Freezer, der dadurch sein Power-Up erhält, dass er ausnahmsweise mal trainiert, was er scheinbar sonst nie tut. Überhaupt schien mir die Bedrohung im Film nicht stark zu sein. Das Ganze wirkte beinah wie eine Parodie auf das, was man sonst von Dragonball Z gewohnt ist.
Das ist so eine Art Toriyama-ismus. Er weiß genau, dass das Publikum nicht nur ellenlangen Kampfszenen zuschauen kann. Man muss da kleine "Erfrischungen" dazwischen packen. Es sind die humorvolle Szenen, die das Ganze ein bisschen auflockern und einen motivieren, weiterzuschauen. Es ist irgendwo ein Grundsatz, der in vielen Anime-Werken gilt. Aber bei Toriyama-Sensei hat man das Gefühl, dass er ihn wirklich verinnerlicht hat. Er weiß sehr genau, wann eine ernste Szene verträgt, ins Lächerliche gezogen zu werden.
Das waren mit die stärksten Szenen. Allerdings hatte ich auch den Eindruck, dass Freezer am Ende gar keine große Bedrohung darstellte. Beerus und Whis beispielsweise stehen einfach neben dem Kampfgeschehen und essen ein Eis. Ein bisschen so habe ich mich auch als Zuschauer gefühlt. Eigentlich war es mir fast egal, was da passiert. War das ein satirisches Augenzwinkern an die Fans?
Eine gewisse Portion Ironie ist natürlich dabei. Im Vordergrund stand aber, dass Son Goku in der Zeit viel getan hat und stärker geworden ist. Das lässt sich natürlich auch über Freezer sagen. Wie man im Film sieht, war es ein gegenseitiges Hochschaukeln der Kräfte. Die beiden haben sich wiedergetroffen und haben am Anfang nicht gleich alles gegeben, sondern abgewartet, wie weit man gehen sollte. Ich denke, das die Umsetzung dieser Idee gut gelungen ist – auch wie die beiden ihre Form verändern.
Der einzige wirklich dramatische Moment ist, als Goku mit einem Laserstrahl erschossen wird. Allerdings wird er sofort wiederbelebt und Vegeta steht sowieso in den Startlöchern, um zu übernehmen. Whis kann außerdem die Zeit zurückdrehen wie ein immer verfügbarer Deus Ex Machina. Man hat also nie das Gefühl, dass besonders viel auf dem Spiel steht. Um jetzt auf ihren Magic Moment von früher zurückzukommen – wie Son Goku zum ersten Mal zum Supersayajin wurde: sowas gab es in diesem Film ja nicht?
Auch das ist natürlich ein guter Punkt. Man muss aber sehen, dass man in 100 Minuten nicht alles reinpacken kann. Man hat diesmal sehr viel Wert auf Tempo gelegt. Dementsprechend ist das Dramatische vielleicht etwas zu kurz gekommen. In diesem Werk konnte man auch nicht zu viel Zeit in Szenen dieser Art investieren, weil das den Fokus der gesamten Handlung verschoben hätte. Ich glaube, dass, wenn man zu viel erklärt und zu viele Zwischenschritte reinpackt, auch die Zuschauer irgendwann gelangweilt sind. Man hat dieses Mal einfach versucht, sehr schnell zur Sache zu kommen. Man muss natürlich auch sagen, dass man sich sehr am Geschmack der amerikanischen Fans ausgerichtet hatte. Um mal ein paar Zahlen zu nennen: Der Film hat es in den USA am ersten Tag auf Platz 6 der Kinocharts geschafft, und liegt in der Rangliste aller bekannter Anime-Filme, die je im Amerikanischen Kino liefen, auf Platz 9. Er hat sogar einige Ghibli-Filme überholt. Man denkt sich deshalb: Zum Glück hat man sich auf diese Kampfszenen konzentriert! Sonst hätte man vielleicht nicht so einen Erfolg gehabt. Man hat das Gefühl, dass Amerikaner eben sehr auf solche Kampfszenen stehen.
Battle of Gods ist dagegen ja fast die Kehrseite von Resurrection 'F'. Denn da wird ja fast alles darauf verwendet, die Hintergründe zu erzählen.
Ja genau.
Abschließende Frage: Welchen Einfluss hat der große Erfolg in Amerika und Europa? Ist der Nachfolger schon geplant?
Ich und auch alle anderen warten darauf, dass Toriyama-Sensei "ja" sagt. Die Motivation ist da. Wir sind alle zuversichtlich, was das angeht. Es hängt aber tatsächlich von Toriyama-Sensei ab. Sein Einverständnis ist wichtig, damit alle anderen anfangen können.
DRAGONBALL Z: RESURRECTION 'F' erscheint Ende des Jahres bei Kazé Deutschland auf DVD und Blu-ray. Verwendete Bilder ©BIRD STUDIO /SHUEISHA ©2015 DRAGON BALL Z the Movie Production Committee.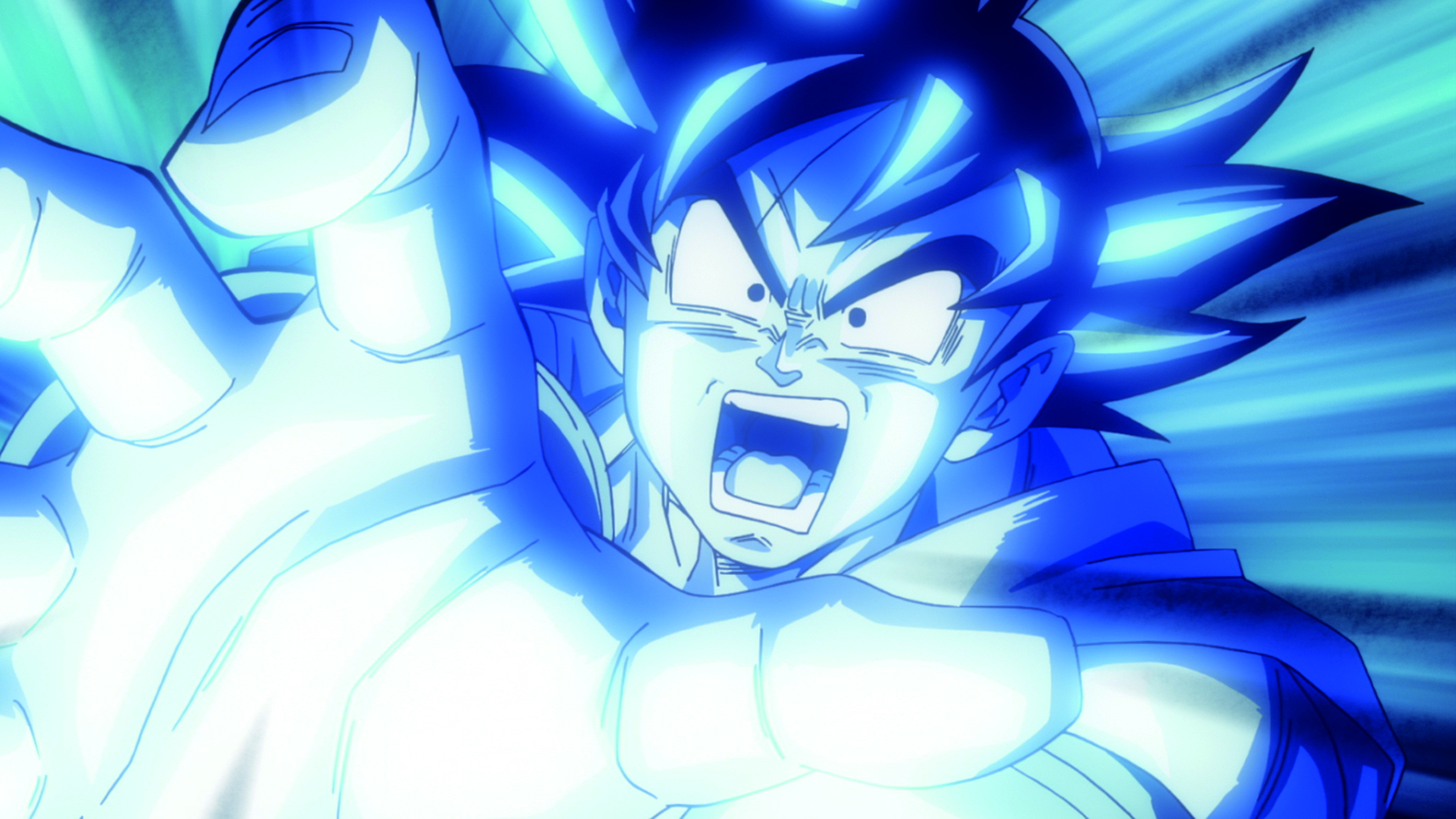 For an easy start: What do you like the most and the least about Dragon Ball Z: Resurrection 'F'?
Hayashida: You need to make compromises, because you only got a limited amount of time. This makes it impossible to include all the characters. Nevertheless, we tried to appeal to as many DBZ-fans as we could. Everyone has his own favorite character, most often Vegeta, Piccolo or Krillin. This is why we wanted each character of the main cast to have a fighting scene of his own. My feeling tells me that we did a good job with that. Concerning the fight scenes, I got lots of positive feedback. What I don't like so much is the fact that the movie has only now been released in Germany – that is quite some time since its premiere in Japan.
The movie premiered one and a half year ago, right?
Yes, the premiere in Japan was in April last year – one and a half years, exactly. That is a major issue that needs to be taken care of. We need to refine our schedule. We also do rely on our partners abroad, of course. If there is a new movie coming out, we want it to be released outside of Japan as soon as possible.
The fight scenes you've already mentioned are pretty cool indeed! The scenery, like the woods and the ocean, is made use of very nicely. And what you have already said in the Q&A: Actual martial arts moves served as an example in order to render the fight scenes. I liked that a lot as well! Yet I  was wondering why there were less character centered moments and plot in comparison to its predecessor Battle of Gods. The fight with Freeza and his minions, taken for itself, lasts quite a while. Why so many fighting scenes?
Very good observation! But that was on purpose. Battle of Gods happened 17 years after the last one of the Dragonball movies. Obviously, we needed to do more explaining. The movie was like a meeting of old friends. Every bit of what was going on in the background was explained, which automatically resulted in more plot. Resurrection 'F', however, wants to go back to the origins of Dragonball Z. And wherin do these origins lie? In the fight scenes, of course! And there you have it. That is why we spent so much time on those.
My impression is that you saved a lot of time by taking Freeza as main opponent. He's the most well established foe of the entire series.
True! The relationship between Freeza and Son Goku is comparable to the one of the Joker and Batman. He is the definitive arch-enemy. That makes the movie more accessible. By resurrecting Freeza, we were aspiring to make the movie as pleasant for the old fans as we could.
How did you find your way into Dragonball? As far as I know you were also working on Dragonball Z Kai.
I've been working for Toei Animation for over five years now. Originally, I was working in the oversea sales department. Back then, I was completely unrelated to the franchise. Then came the time when people were talking about a new Dragonball Z show, which now is Kai. One reason for producing Kai was that Toei was aware of the sheer number of fans outside of Japan. At the time, they didn't have a producer for the show. So I applied and was lucky enough to get the job. This led to my further involvement with the feature films.
Obviously, you're a huge fan of Dragonball and Toyiyama-san yourself. Do you recall a magic moment in Dragonball Z that made you want to produce it sometime in the future? Maybe the first Supersayajin? Or the Kame-Hame-Ha?
I'm one among many, I think, who would name the first Supersayajin transformation. I remember the moment very well when Son Gohan was watching his father transform. There had been a lot of talking about it in the show before but you never knew what it was exactly. Eventually, Freeza provoked him so much that Goku finally transformed. This was one of the moments that had a great impact on me.
How was working together with Akira Toriyama? Yesterday, in the Q&A, you characterized him as a kind and cautious person.
As a producer, my relationship with Toriyama-sensei is somewhat complicated. He is the one who needs to ensure that everything we do is in line with the series as a whole. I saw him being very respectful towards the staff of the creative team at Toei – the director, the animators etc. As the creator and writer of the series he, of course, has a say in everything. However, he has never gone to far. He feels responsible for the manga series and leaves the animation to the experts, so to speak. You can really feel his respect for the team. As a result the team puts a lot of pressure on itself to fulfill Toriyama-sensei's expectations. They don't want to disappoint him. It's kind of an invisible pressure. I've seen other creators slowing down the process by expressing too many wishes. With Toriyama-sensei it's different. He understands that the anime team needs freedom. Nevertheless, he is watching over them. It was a very cooperative effort.
In the Q&A it was mentioned that it was Mister Toriyama himself who wanted to bring back Freeza after listening to a song about him by the Japanese Metalband Maximum The Hormone. How many ideas go back to Akira Toriyama, how many to the creative team?
Let me explain it in some detail: Toriyama-sensei wrote the story for Battle of Gods, but someone else wrote the script. For Resurrection 'F' Toriyama-sensei, for the first time, wrote the screenplay himself. At the same time, it was the director's first movie in the Dragonball universe. So it was the first time on both sides. Very often, first time directors are so excited that they try imprinting their style on the movie. But together with the script by Toriyama-sensei himself everything came out well-balanced.
German fans claim that Vegeta didn't get enough screen time. You said earlier that this was no problem for the Japanese audience. Does Japan look at Dragonball with different eyes?
Vegeta tends to have more fans abroad than in Japan. That's how I feel, too. Of course, he has fans in Japan. But it's nothing compared to America and Europe.
A technical question: the movie relies on 3D computer graphic animation. This enables dynamic fighting scenes as the camera is able to move around freely. At the same time, the 3D images were very distracting. Sometimes you would think you were looking at a Playstation 3 game. Are there any ideas how this could be improved in the future?
Of course, there are things that can be improved. There is still a long way to go and we are still not completely satisfied with the result. But to be honest: there are things that you can do a lot faster with 3D computer graphics. You can move the camera in which way you like and don't have to wait for every single picture to be drawn, to see whether it will be any good.
One more thing that I noticed: The movie was surprisingly funny! There were little gags like Piccolo swinging some cradle or Freezer getting his power up by exercising for a change (of which he says he's never done it before). In the end, the movie wasn't heavily dramatic, though. It almost felt like a parody of the normal Dragonball Z formula.
This is kind of a Toriyama-ism, so to speak. He knows very well that the audience cannot indefinitely enjoy one fight after another. You need to have refreshments in between. This is where the humorous scenes come into play, to loosen it up, to give the audience the energy to go on. It's kind of a general rule in a lot of animated works. But with Toriyama-sensei you really get the impression that he has internalized it perfectly. He just knows when exactly a serious moment can be resolved with a joke.
Among others, those where the best scenes. But I must admit that I didn't feel that Freeza was a huge threat in the end. Beerus and Whis, for example, were just standing around eating ice cream. That's what I sometimes felt like as part of the audience. Actually, I almost didn't care what was going on. Was this supposed to be a satirical wink at the audience?
There certainly is a good amount of irony involved. But the focus was on Son Goku, who had been training a lot and has become stronger. The same thing can be said about Freeza, of course. As you can see in the movie, both end up getting worked up by each other. Yet, when they finally meet again, they don't go use 100% of their power, but wait how much they really have to use. I think this worked out pretty well – also how they transform.
Goku being shot with a laser beam is the only highly dramatic moment, though. At the same time Vegeta is ready to take his place any time and Whis is able – like a deus ex machina – to turn back time whenever he pleases. There never is a moment where much is at stake. Coming back to your personal magic moment of Son Goku transforming into a supersayajin the first time: There is nothing like that in this movie, is there?
Fair point. But you need to realize that you just can't pack everything into 100 minutes. This time we were going for a fast pacing. This, on the other hand, may have caused some shortcomings on the dramatic level. But there just wasn't enough time to invest in scenes like that, because it would have shifted the focus of the plot. I believe that the audience will be bored if you do everything step by step. We tried getting straight to the point as fast as we could. To be fair, we tried going for what the American audience would like the most. To name a few numbers: the movie came in sixth on its first date at the box office; it's on rank nine of the highest grossing anime in the USA of all time. It has even surpassed some of the Ghibli movies. This is why we thought: What a great decision to focus on the fight scenes! Otherwise we probably wouldn't have had such great success. We recon the American audience is crazy about those fight scenes.
Battle of Gods feels like the exact counterpart of Resurrection 'F'. One was nothing but backstory, the other one nothing but fighting.
Indeed.
Last question: Did the success of the movie in America and Europe affect the thought about a sequel?
I myself and everybody else is waiting for Toriyama-sensei to say "yes". We're motivated and are very confident in that regard. But it definitely is Toriyama-sensei's decision. It's all up to him whether we may start working on the next film.
Youtube-Video im erweiterten Datenschutzmodus. Vorsicht: Datenübermittlung an Youtube/Google beim Ansehen dennoch möglich.
Images ©BIRD STUDIO /SHUEISHA ©2015 DRAGON BALL Z the Movie Production Committee