Auf dem Kino-Festival ANIME BERLIN und auf der NIPPON CONNECTION in Frankfurt am Main gibt es von Mai bis Juni eine feine Auswahl an wiederentdeckten Klassikern und neuen Entdeckungen zu sehen. Wir stellen die wichtigsten Animes vor!
LU OVER THE WALL (Regie: Masaaki Yuasa)
夜明け告げるルーのうた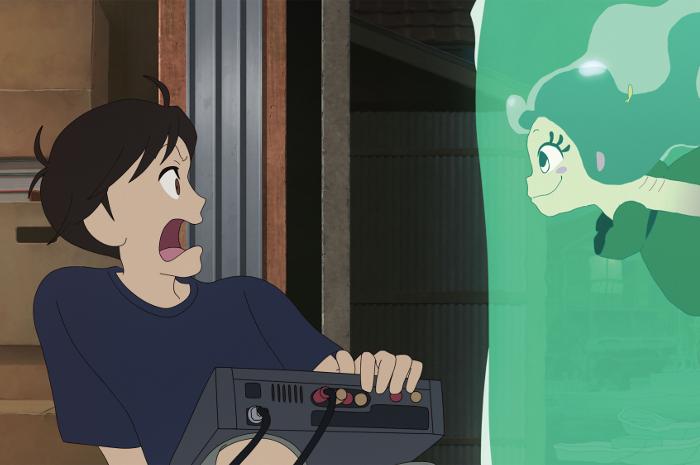 Schulbands sind nicht unbedingt der Bringer, aber Kai, Vordermann der Band aus dem kleinen Küstendorf Hinashi, gewinnt mit seinem Gesang einen Groupie der ausgefallenen Sorte: die Meerjungfrau Lu, die ihm von nun an auf Schritt und Tritt folgt. Das klingt in den Grundzügen sehr nach Miyazakis PONYO und ist vielleicht auch so gemeint: PONYO für die Größergewordenen. Der Film knüpft mit seinem ausladenden Zeichenstil an Masaaki Yuasas Meisterwerk MIND GAME an. LU OVER THE WALL gewann in Frankreich bereits den Hauptpreis des Animationsfestivals in Annecy. Seine Deutschlandpremiere feierte der Film auf der Nippon Connection. Im Herbst folgt ein Kinotag in der synchronisierten Fassung.
THE NIGHT IS SHORT, WALK ON GIRL (Regie: Masaaki Yuasa)
夜は短し歩けよ乙女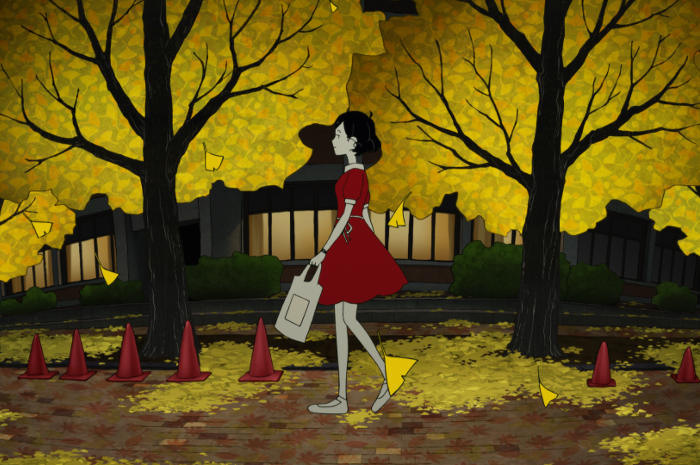 Ein Student folgt seinem Schwarm eine Nacht lang durch das nächtliche Treiben in Kyoto. Was wie ein Stalker-Film klingt, ist in Wahrheit eine rauschende Kneipentour, die allerlei Gestalten zu Wort kommen lässt. Der Film sieht der Serie THE TATAMI GALAXY nicht zufälig ähnlich. Sieben Jahre nach der Adaption von Tomihiko Morimis Campus-Roman, knüpft sich Yuasa erneut einen Stoff des kyotoer Autors vor. So ist es kein Zufall, dass es einige Wiederbegegnungen mit Figuren aus den Tatami-Universen kommt. THE NIGHT IS SHORT ist 13 Jahre nach MIND GAME Masaaki Yuasas zweiter Langfilm. Unter anderem gewann er den Preis für den besten Animationsfilm der Japanischen Acedemy. Wie schon bei LU läuft die Originalfassung auf der Nippon Connection als Deutschlandpremiere, die synchronisierte Fassung folgt im Herbst.
MARY AND THE WITCH's FLOWER (Regie: Hiromasa Yonebayashi)
メアリと魔女の花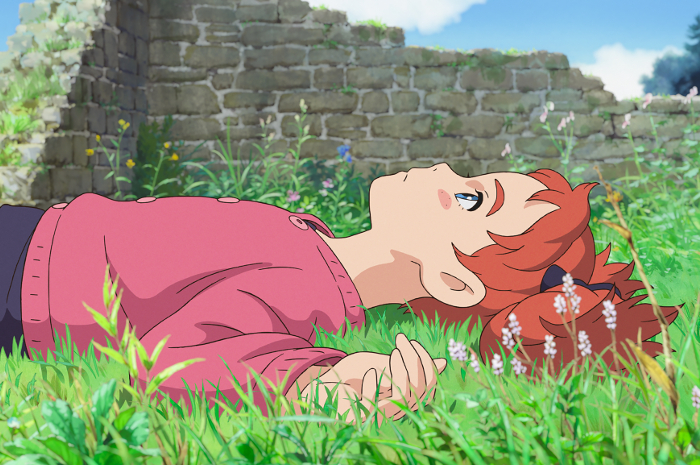 Bekannterweise hat sich Hayao Miyazaki zum wiederholten Male selbst reaktiviert und werkelt weiter im Studio Ghibli. Vielleicht mit ein Grund für die nächste Generation um Hiromasa Yonebayashi (ARRIETTY, ERINNERUNGEN AN MARNIE) es ohne die Aufsicht des Altmeisters zu probieren. Mit dem neugegründeten Studio Ponoc setzen die Zeichner, wie unschwer zu erkennen, die Zeichen- und Erzähltradition von Studio Ghibli fort. Einige Kritiker haben angemerkt, dass die Handlung etwas holperig daherkommt, allein die visuelle Seite des Films sollte aber über einige Schwierigkeiten hinwegsehen lassen.
MUTAFUKAZ (Regie: Shoujiro Nishimi & Guillaume Renard)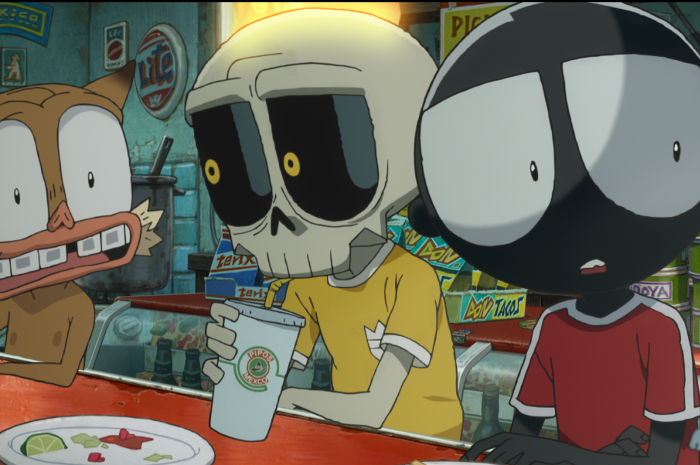 Pizza-Boy meets Dream Girl in Dirty L.A. Das ist der Aufhänger für das französisch-japanische Animationsspektakel MUTAFUKAZ. Die Trailer versprechen einen Film, der an die Glanztage von Studio 4° zurückdenken lässt. Dass der Film einfach nur verdammt gut aussieht ist Hintergrundszeichner Shinji Kimura und Co-Regisseur Shoujiro Nishimi (beide u.a. TEKKON KINKREET) zu verdanken. Dazu kommt ein Soundtrack, der mit seinen Hiphop-Beats in die Vollen geht. Die Vorlage zum Film lieferte Co-Regisseur Guillaume Renard aka Run selbst: erst mit einem Kurzfilm, später mit einer Comic-Serie, die in Frankreich offenbar recht erfolgreich war. MUTAFUKAZ eröffnet das Kino-Festival Anime Berlin.
NIGHT ON THE GALACTIC RAILROAD & THE TALE OF GENJI (Regie: Gisaburo Sugii)
銀河鉄道の夜 & 源氏物語
Night of the Galactic Railroad
Tale of Genji
Gisaburo Sugii gehört der Kaste der geheimen Anime-Meister an. Wie es in dem unten verlinkten Artikel heißt: "Wo andere Anime-Regisseure wie Miyazaki, Oshii oder Kawajiri einen kennzeichnenden Stil besitzen, hat Sugii wohl gar keinen. Er ist einfach nur gut." So hat er bei den verschiedensten Produktionen mitgewirkt, u.a. bei den Experimentalfilmen von Tezkuas Studio Mushi Production (BELLADONNA, CLEOPATRA, siehe unten), aber auch bei der Adaption des Beat'em Up-Klassikers STREET FIGHTER II. Das Babylon zeigt mit NIGHT ON THE GALACTIC RAILROAD Sugiis bekanntestes Werk. Der Film basiert auf einer Erzählung von Kenji Miyazawa. Mit THE TALE OF GENJI wagt sich Sugii weit zurück in der Literaturgeschichte Japans, in die Heian-Zeit. Beide Werke sind absolute Empfehlungen, auch weil sie in Deutschland nicht auf DVD verfügbar sind. Anime Berlin zeigt außerdem mit ANIMATION MAESTRO GISABURO einen Dokumentarfilm über den vielseitigen Regisseur.
1001 NIGHTS & CLEOPATRA (Regie: Osamu Tezuka & Eiichi Yamamoto)
千夜一夜物語 & クレオパトラ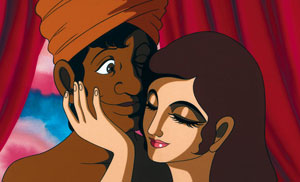 Dass Tezukas erstem Zeichentrickstudio Mushi Production irgendwann das Geld ausging, liegt nicht zuletzt an der sogenannten Animerama-Trilogie aus BELLADONNA, 1001 Nacht & CLEOPATRA. Der erst genannte Film ist bereits seit einigen Jahren bei Rapid Eye Movies verfügbar und lief 2016 sogar in einer restaurierten Version auch hierzulande im Kino. Jetzt hat der Kölner Verleih auch die beiden Vorläuferprojekte ins Programm genommen. Beides Zeugnisse einer experimentierfreudigen Zeit, in der die aufblühende Anime-Industrie unter Beweis stellen wollte, dass noch mehr drin ist als ASTRO BOY.
Weitere Tipps für das Anime Berlin (10. – 20. Mai 2018): Giovannis Island, Paprika, Patlabor I, British Museum presents: Hokusai. Zum vollständigen Programm. Die Nippon Connection findet vom 29. Mai bis 3. Juni in Frankfurt am Main statt. Zum vollständigen Programm.