Die Künstlerin Mélodie Mousset hat im Stuttgarter Kunstmuseum Teufelskraft freigesetzt. In der Virtuellen Realität kann jeder von den Kräften der Hana-Hana-Frucht aus der Manga- und Animeserie ONE PIECE zehren!
Wer die Ausstellung Mixed Realities im Stuttgarter Kunstmusuem besucht, vergisst nach einiger Zeit die reale Welt, aus der er gekommen ist. Über drei Stockwerke wird die Wirklichkeit gedehnt, verändert oder ersetzt. In vielen Räumen gibt es Installationen aus Virtual Reality, kurz VR. War man Ende der 1990er noch neidisch auf Ed und Ein aus Cowboy Bebop, die mittels aufgesetzter Brille direkt das Internet vor Augen hatten, ist die VR heute schon auf dem Sprung zu etwas für jedermann. Es gibt sogar bereits Aufsätze für das Smartphone!
VR bringt aber nicht nur Gewohntes näher vor Augen, sondern eröffnet auch neue Spielarten in der Kunst. So eröffnet einem das knapp acht minütigen VR-Aufklärungsvideo des Swan Collective, dass man gar nicht der ist, der man glaubte zu sein, sondern eine App, programmiert von einer Stimme aus dem Off. Nach einer Tour durch den eigenen, nun völlig abstrakten Körper, entlässt einen die Stimme des Programmierers am Ende der Tour durchs eigene Ich wieder in die "Dauerschleife" der gewohnten Realität – mit der Ansage, dass sich diese abrupt ändere, wenn man demnächst als App im Store hochgeladen werde. Auch interessant ist die Arbeit von Spirous Hadjidjanos, die den Betrachter in einen mit Asterioden und merkwürdigen Metallkunstwerken durchsetzten Weltraum führt.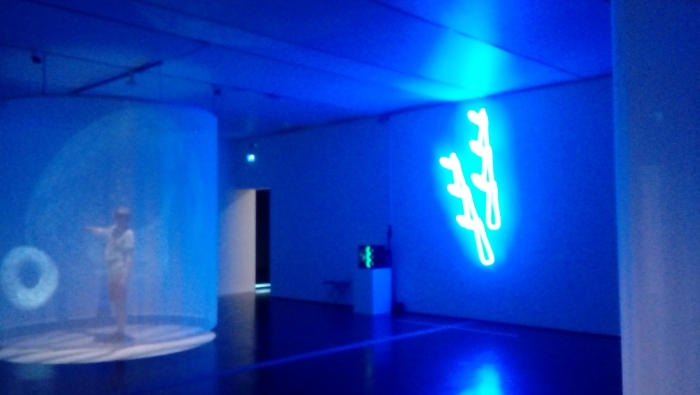 Hände wachsen wie Blumen aus dem Boden
Für Manga- und Anime-Fans, insbesondere von Eiichiro Odas One Piece, ist allerdings das oberste Stockwerk die Erfüllung: hier zehrt man als Besucher einmal selbst von einer der berüchtigten Teufelskräfte! Das geht dank des VR-Programms Hana Hana der französischen Künstlerin Mélodie Mousset, das sie nach der gleichnamigen Frucht aus der Serie benannt hat. Der Piratin Nico Robin ermöglicht sie das unendliche Verdoppeln von Körperteilen, vorzugsweise von Händen und Armen.
In Moussets Raum hängen in zwei durch dünne weiße Vorhänge abgeschirmten Kreisen VR-Headsets von der Decke, dazu jeweils ein Joystick. Alles drumherum ist in blaues Licht getaucht. An der gegenüberliegenden Wand liegen zerschmolzene Tonkrüge vor der Wand. Hinter diesen wachsen schon erste Handtürme Blumen gleich in die in die Höhe. Die Assoziation mit Blumen ist nicht abwegig, denn hana 花 bedeutet auf Japanisch Blume. Attackiert Nico Robin einen Gegner, tauft sie die Angriffe wiederum in Wortkombinationen mit dem entsprechenden französischen Wort fleur.
Setzt man das VR-Headset auf, hat man ab sofort die Fähigkeit wie die Piratin Nico Robin Hände nach Belieben in die Höhe oder Tiefe wachsen zu lassen: Der in die Virtualität Eingetauchte findet sich in einer Wüste wieder, die der aus dem Alabasta-Arc von One Piece nicht unähnlich scheint. In diesem Handlungsstrang trat Nico Robin im Kapitel 114 der Manga-Serie erstmals in Erscheinung. Und zwar noch nicht als Mitglied der Strohhutbande, sondern als Komplizin des Schurken Sir Crocodile.

Youtube-Video im erweiterten Datenschutzmodus. Vorsicht: Datenübermittlung an Youtube/Google beim Ansehen dennoch möglich.
Die Teufelskraft selber in der Hand
Mit der oberen Taste des bewegungssensitiven Joysticks zeigt man an, in welche Richtung man sich bewegen möchte. Die meiste Zeit streift man durch Sand und nochmals Sand, allerdings stößt man nach einer Weile auch auf andere Phänomene wie umgekippte Steinkolosse, einen purpurroten See oder einen turmhoch aufbrausenden Sandsturm. Drückt man die Trigger-Taste auf der Rückseite des Joysticks, setzt man die eigentliche Teufelskraft frei: dort wo man hinzeigt, wächst unmittelbar eine Hand aus dem Boden. Je länger man drückt, desto größer und höher wird sie. So kann man entweder viele kleine, mal weiße, mal schwarze Hände, wachsen lassen, oder riesige, in die Höhe reichende Hände, aus der die eine aus der anderen Hand erwächst. Die verdrehtesten Kombinationen sind möglich. Über den Tag entstehen in der kargen Wüste von Nutzer zu Nutzer immer ausgefeiltere Phantasiegebilde.
Ohne, dass man es merkt, vergeht Minute um Minute in der Welt der wachsenden Hände. Gerne gibt man die so eben erst gewonnene Kraft nicht ab, aber der Andrang in Stuttgart ist groß. Wie es mit Mélodie Moussets Projekt Hana Hana weitergeht (Stichwort: Konsolenumsetzung?!), ist noch unklar. Einen ersten Hinweis in Richtung therapeutische Zwecke hat die Künstlerin den Stuttgarter Nachrichten gegeben. Es bleibt die Frage, welche Teufelskraft als nächstes ihren Weg in die virtuelle Realität finden wird. Ruffys Gummiarme scheinen nunmehr in nicht unerreichbarer Ferne!


Die Ausstellung "Mixed Realities" ist noch bis zum 26. August im Stuttgarter Kunstmuseum zu sehen. Verfolgen kann man das Projekt über die Webseite und Twitter.
English summary: French artist Mélodie Mousset grants non-pirates with the power of Nico Robin via virtual reality technology. Visitors can make use of the infamous Hana Hana fruit's power from Eiichiro Odas Manga series One Piece until August 26th. What's next? Gum gum?!