"So kurz war diese Nacht aber nicht!", will man meinen, nachdem man, berauscht vom Treiben, mit den Filmfiguren durch die Straßen Kyotos gezogen ist. Wie fing das alles noch gleich an? Ach ja, da waren dieses Mädchen und dieser Kerl, der sie gut fand und dann nicht wieder fand. Ein Bier hier, ein Cocktail dort, Izakaya hier, Party da. Hat sie etwa den Altmeister unter den Tisch gesoffen?? Plötzlich überall Theater, überall Polizei, alle krank (vor Kater?). Und irgendwann war da auch Götterwerk im Spiel…!
Auf der Nippon Connection in Frankfurt feierte Masaaki Yuasas zweite Adaption eines Romans von Tomihiko Morimi seine Deutschlandpremiere. Der Programmverantwortliche verkündete vorab treffend: "Ein anderer hätte zehn Filme gemacht, aber Yuasa hat alles in einen gepackt." So verließ das Publikum nach 90 Minuten bester Laune wieder den Saal. Hat diese Nacht wirklich nur eineinhalb Stunden gedauert?
Der Film selbst spielt mit seinem Motiv, denn die Nacht dauert fast den ganzen Film über an, so als wolle sie gar nicht enden. Die Grundkonstellation ist eine einfache: eine namenlose junge Frau spaziert allein durch die kyotoer Nacht und ein anderer Namenloser hat ein Auge auf sie geworfen. Aber das Objekt der Begierde entschlüpft ihm immer wieder. Während er unglücklich seine unterste Hose verliert, genießt sie die 200-Yen-Cocktail Happy Hour ganz alleine: "Ich bin vernarrt in Cocktails. Cocktails zu trinken ist so, wie wenn man ein schönes Juwel anlegt. Sie geben mir ein extravagantes Gefühl. Ehrlich gesagt, liebe ich Rum so sehr, ich wünschte, der Pazifische Ozean bestünde daraus!"
Und damit ist die Kneipentour eröffnet. Die junge Frau geht stets selbstbewusst und lebensfroh durch die Nacht. Mal trinkt sie mit zwielichtigen Sammlern erotischer Kunst, mal mit einer reichlich angeschekerten Hochzeitsgesellschaft; mal trinkt sie einen Rentnerreigen unter den Tisch, mal den Großmeister Rihaku. "Das Leben ist einsam und schal und im nächsten Moment vorbei," lamentiert jener beim Leeren des x-ten Sakebechers und sinkt in sich zusammen. Dagegen leert die junge Dame jeden Becher mit Genuß, der Whisky verwandelt sich in ihrer Hand in ein blumiges Lebenselixir. "Warum trinkst du?", fragt der alte Rihaku. "Diejenigen, die ich bestimmt war zu treffen, haben mich hierher geführt. Selbst jetzt, wenn ich mit Ihnen trinke, habe ich das Gefühl, dass alles miteinander in Verbindung steht." Genau das ist es, was der Film zelebriert: Trinken als Form des geselligen Beisammenseins. Alkohol ist köstlich, aber umso köstlicher, wenn man ihn gemeinsam trinkt.
Und all das war erst der Beginn der Nacht…!
Nach(!) der Kneipentour erkundet die junge Dame einen nächtlichen Büchermarkt, wo sie auf dessen Schutzgott stößt (der Ozu aus Tatami Galaxy verdächtig ähnlich sieht). In einer köstlichen Szene eröffnet er ihr im Stakkato, dass jedes Buch auf eine Art und Weise mit allen anderen Büchern zusammenhängt. Und auch ein drittes Mal wird der Film dieses Motiv des "Alles in Allem" am Ende wieder aufgreifen. Zuvor aber greift eine Guerilla-Theatergruppe immer wieder überraschend in das Geschehen ein. Ehe man sich versieht, ist aus dem Kneipenfilm ein Musical geworden, das im Finale eine grandiose Wendung nimmt.
Mit Tomihiko Morimi (u.a. auch The Eccentric Family) als Vorlagenautor und Masaaki Yuasa als Regisseur haben sich zwei Seelenverwandte zusammengetan. Jonathan Clements hat Morimi an einer Stelle als post-modernen japanischen Autor der Gegenwart charakterisiert. In der Tat ist er jemand, der eine Freude daran hat, die eigene Kultur auseinanderzunehmen. Kyoto als ein Ort, in dem sich die Wege erfahrener Izakaya-Gänger, schatzsuchender Bücherliebhaber und universitärer Sponti-Theatergruppen in einer Nacht plötzlich kreuzen können. Anders als viele westliche postmoderne Schreiber, setzt Morimi seine Einzelteile auch wieder zusammen. Und das nicht nur irgendwie, sondern so, dass am Ende ein schillerndes Mosaik der japanischen Kultur entsteht.
Masaaki Yuasa hat erklärt, dass er nach seiner Serie The Tatami Galaxy, gleich noch einen Morimi adaptieren wollte, es aber doch einige Jahre gedauert hat, bis das Projekt zustande kam. Umso erfreulicher ist es, dass Yuasa unverkennbar das gesamte Kernteam wiedergewinnen konnte. Allen voran Makoto Ueda als Drehbuchautor, dem es gelungen ist, die zahlreichen Nächte der Vorlage in eine einzige zu verdichten. Michiru Oshima vereint in ihren Kompositionen westliche und östliche Motive und lässt einige Melodien aus dem Tatami-Universum in neuem Gewand erscheinen (leider ist nur der auch sehr schöne Abspannsong von Asian Kung-Fu Generation auf CD erschienen). Illustrator Yusuke Nakamura hat einmal mehr die Neuzugänge und bekannten Figuren aus dem Morimi-Kosmos entworfen.
Zurück sind einige Figuren aus Tatami Galaxy, u.a. der Langzeitstudent/Halbgott Higuchi und die Dentalhygienistin Hanuki. Der Gott des Gebrauchtbuchmarktes sieht dem Oberschelm Ozu verblüffend ähnlich, und Jougasakis Liebesdrama wird auf ganz neue Weise noch einmal dargeboten. Kennen muss man die noitaminA-Serie nicht, um bei The Night is Short, Walk on Girl mitzuspazieren, aber man wird sich an dem ein oder anderen Gag zusätzlich erfreuen.
Kurzum: dieser Film ist Yuasas Meistersstück! Hatte Lu Over the Wall noch hier und da seine erzählerischen Schwierigkeiten, hat man bei dieser kurzweiligen Nacht gar keine Zeit, sich über derlei Gedanken zu machen. Dieser Film ist ein köstlicher Cocktail, dessen Geschmack noch lange auf der Zunge haften bleibt. Ein schönes Juwel, das man immer und immer wieder anlegen möchte.
Kazé Deutschland bringt den Film am 30. Oktober einen Tag lang in einer synchronisierten Fassung deutschlandweit in die Kinos. Eine Veröffentlichung auf DVD und Blu-ray hierzulande für Januar 2019 in Planung. In UK ist der Film bereits durch Anime Limited in einer untertitelten Fassung erschienen.

The Night Is Short, Walk On Girl (jap. Original: 夜は短し歩けよ乙女). Regie: Masaaki Yuasa, Japan 2017.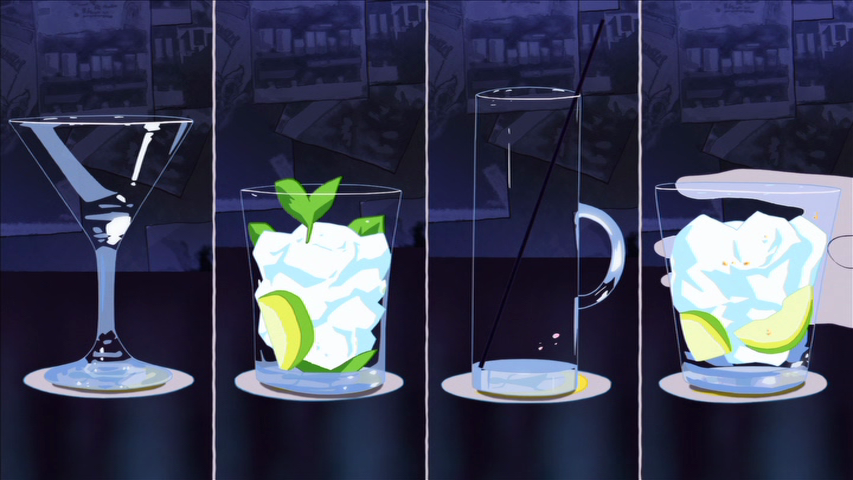 Bildnachweise:  © Tomihiko Morimi,KADOKAWA/NAKAME COMMITTEE