Die Herausgeber und Redakteure von Tanuki Republic schreiben nicht nur für diesen Blog. Wenn es mit einem neuen Artikel mal wieder etwas länger dauert, kann man sich fortan die Wartezeit mit einem Blick auf unsere publizistischen Umtriebe verkürzen. Die Liste der persönlichen Internetpräsenzen, der Artikel für andere Medien und Auftritte in Podcasts wird regelmäßig aktualisiert. Um die Beiträge in der empfehlenswerten linken Tageszeitung junge Welt lesen zu können, braucht man ein Onlineabo. (Letztes Update: 24.07.20)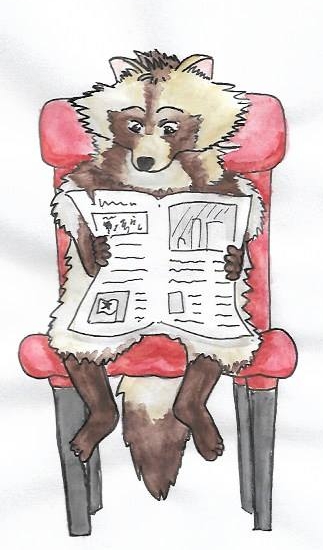 RYUZO AND THE SEVEN HENCHMEN (Spielfilm)
SHINKANSEN DAIBAKUHA – Panik im Tokyo Express (Spielfilm)
Illustratoren
Lukasz Buda (instagram //  tumblr)
Aurelia Rist (instagram)
Tokyos Bücherstadt: Ein Streifzug durch Jimbocho
Geschichte und Gegenwart des japanischen Kriminalromans
Das Thema des digitalen Totalitarismus in der Popkultur
Die Abgründe der japanischen Idol-Kultur
Mangarezensionen und Hintergrundartikel

Tsuge Yoshiharu: ROTE BLÜTEN; Q Hayashida: DOROHEDORO (Doppelrezension)
Shigeru Mizuki: AUF IN DEN HELDENTOD!
Yukito Kishiro: BATTLE ANGEL ALITA: LAST ORDER
Naoki Urasawa: 20TH CENTURY BOYS
Minetaro Mochizuki: CHIISAKOBEE; Eldo Yoshimizu: RYUKO (Doppelrezension)
Jiro Taniguchi: ICE AGE CHRONICLE OF THE EARTH
Yukito Kishiro: BATTLE ANGEL ALITA
Jiro Taniguchi: TROUBLE IS MY BUSINESS (und weitere Werke)
Autorenportrait: Mizuki Shigeru (SHOWA, NONNONBA)
Hintergrund: linke Mangakultur in den 1960er Jahren
Hintergrund: rechte Mangakultur in der Gegenwart
Comicrezensionen
Max Cabane, Doug Healine: NADA (nach einem Roman von Jean-Patrick Manchette)
Jordie Bellaire, Dan Mora et al.: BUFFY THE VAMPIRE SLAYER (Boom! Studios)
Rick Remender, Matt Hollingsworth et al.: TOKYO GHOST
Robert Kirkman und Paul Azaceta: OUTCAST
Brian K. Vaughan, Cliff Chiang: PAPER GIRLS
Dustin Nguyen, Jeff Lemire: DESCENDER
Wilfrid Lupano, Paul Cauuet; DIE ALTEN KNACKER
Brian K. Vaughan, Fiona Staples: SAGA
Chris Dingess, Matthew Roberts et al.: MANIFEST DESTINY
Mike Mignola, Christopher Golden et al.: BALTIMORE 
Buchrezensionen, Artikel über Literatur

Autorenportrait: Fuminori Nakamura (Die Maske, Der Revolver, Cult X)
William Andrews: Dissenting Japan
Tomohiko Suzuki: Inside Fukushima 
Kobayashi Takijis Kanikōsen und die proletarische Literaturbewegung Japans
Anime und Film
Anime: HÄNDE WEG VOM EIZOUKEN!
Reihe: Japanischer Punk-Film, Berlinale 2016
Oguma Eiji (Soziologe & Dokumentarfilmer): TELL THE PRIME MINISTER
Messen & Ausstellungen
Leipziger Buchmesse 2015 (mit Lukas)
HOKUSAI X MANGA: Japanische Popkultur seit 1680, Museum für Kunst und Gewerbe Hamburg
Festivalbericht Nippon Connection 2015: Hiphop und der Psychopass
Hikaru Nakamura: SAINT YOUNG MEN
Illustration: Sonja Beier